2014 Event : Report
Iain Whiteside of Carnethy won the 2014 Seven Hills Race, in 1:39:50, beating club colleague Michael Reid by just 10 seconds. Johnny Lawson of Portobello was 5 minutes back in third.
Nicola Duncan of Portobello lilfted the women's trophy, being 10th overall, in 1:52:04. Megan Crawford was less than 2 minutes behind in 2nd place, and Megan Wright of HBT was 3rd.
Peter Buchanan of Portobello retained the M50 trophy, 15th overall, with Mike Andrew of Carnethy 2nd and Willie Jarvie of Portobello 3rd. Jim Macgregor took the M60 prize, and Dutch visitor Jan Keijzers the M70.
Rhona Anderson of Dunbar took the F45 trophy, with Kathy Henly of Portobello 2nd. Judith Dobson (Kinross RR) took the F55 prize.
Team event: 'Carnethy 1' were the winning team (Whiteside, Reid, Stephenson), with the 'Porty Elite' 2nd (Lawson, Geoghegan, Dunbar). Best all-female team were 'Anonymous' (Duncan,Crawford, Horn); 2nd were 'HBT Ladies Awesome' (Wright, Mowbray, McKechanie).
Full results can be seen on the Results page.
Doublers : The 2014 list of the super-heroes who did the Edinburgh Marathon and Seven Hills 'Double' can be viewed here.
Photos around the course by Alex Oliver here

Photos by Mike Lynch, Calton Hill, including prize-giving, here
Photos at the allotments by John McCurdy here
Photos of runners finishing, by Mike Newton, here

2014 winner Iain Whiteside with the trophy.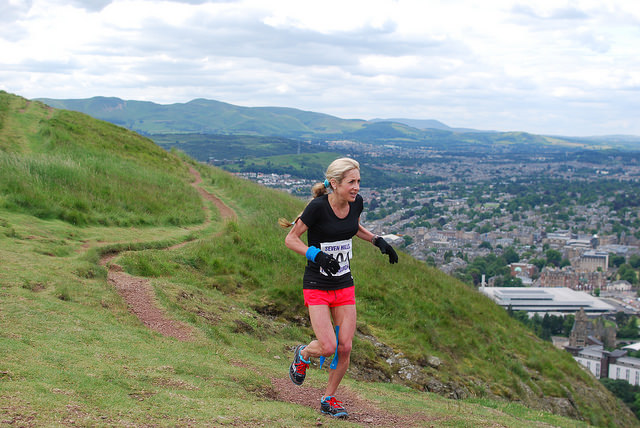 Female winner Nicola Duncan on Arthur's Seat
Peter Buchanan of the Sporty Porty retained the M50 trophy.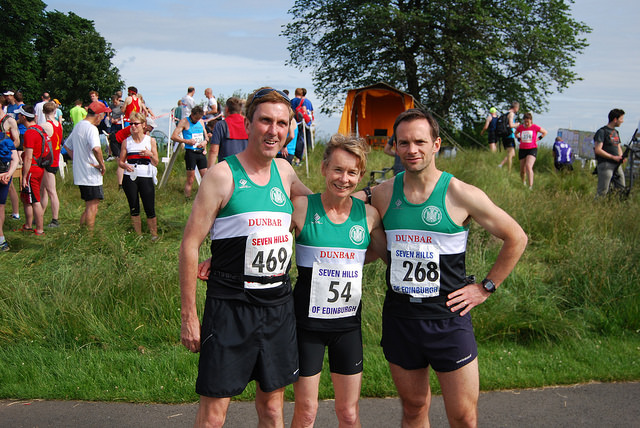 Rhona Anderson won the F45 trophy; here with Dunbar colleagues.
* * *