2015 Event : Report
Dessie Flanagan (Musselburgh) won the 7 Hills Race in 1:38:31, with Michael Reid (Carnethy) again 2nd (1:38:47), and Stewart Whitlie (Carnethy) 3rd in 1:46:32.
Megan Crawford of Fife AC won the women's trophy with 1:52:36, with Rhona Anderson (Dunbar) 2nd in 2:06:33, and Elizabeth Richardson of Edin Tri Club 3rd in 2:09:23.
Stewart Whitlie took the M50 trophy, with Peter Buchanan (Porty) 2nd and Roland McCraw (Porty) 3rd. Martin Caldwell (Corstorphine) won the M60 prize.
Rhona Anderson took the F45 trophy, with Karen Dobbie (Edin AC) 2nd. Judith Dobson (Kinross) won the F55 prize.
A Carnethy team took the team prize, with Portobello 2nd and Dunbar 3rd (pics below).
---
Full results via 'Results' page.
List of 'Doublers' (2015 Edinburgh Marathon and Seven Hills) available here
Photos of all prizewinners (by Mary Hunter) here
Photos of runners on Arthur's Seat here (courtesy of Willie Jarvie).
Photos from the allotments (courtesy of John McCurdy) here
Blog by Peter Buchanan (re-live every step of the race!) here
Blog by Nick Williamson (re-live every step of the race!) here
Thanks to Tweed Valley Mountain Rescue Team for providing medical cover.
www.tweedvalleymrt.org.uk
Photos from previous years can be viewed via the Photos page.
Race winner Dessie Flanagan with the trophy.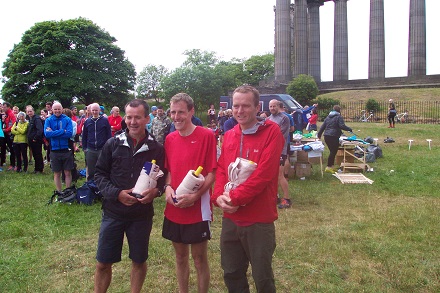 Carnethy team prize winners: Stewart Whitlie (who was also M50 trophy winner), Michael Reid, and Olly Stephenson.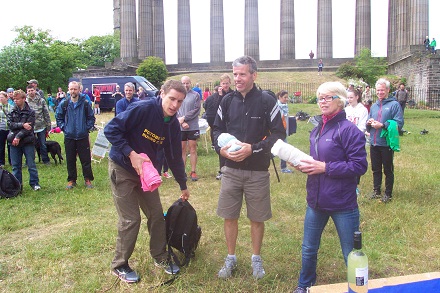 2/3rds of Portobello's 2nd-placed team, Messrs Limmer and Buchanan.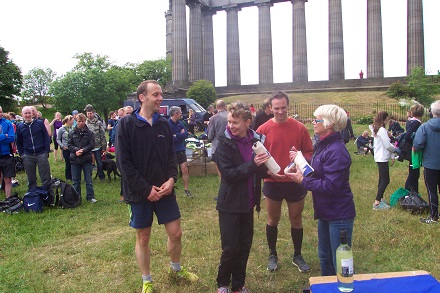 Dunbar were 3rd team: Jamie Thomas. Rhona Anderson, and Nick Williamson.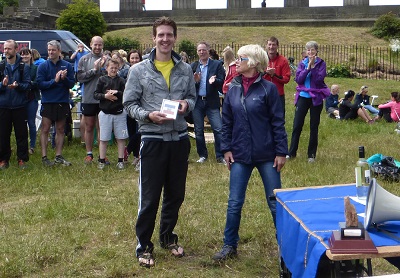 Marijn Rodenburg with his best Dutch runner prize.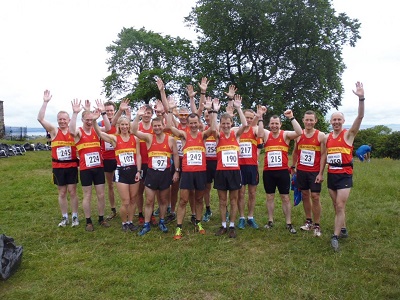 Big group of happy Carnethys on Calton Hill.
Checkpoint on Arthur's Seat